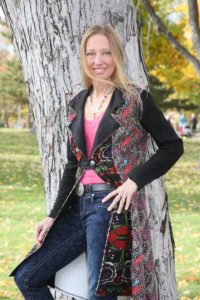 Karla Cernik opened the doors of Silk Road over ten years ago, hoping to bring a special shopping experience to the place where she grew up and still calls home. Karla has been part of the Wash Park neighborhood for most of her life, attended Lincoln Elementary and South High, and spent countless hours in and around this uniquely beautiful Denver area. Her shop blends the casual warmth of Old South Gaylord Street with her world traveling experiences, showcasing talented artists and artisans from Colorado and across the globe.
Karla and the rest of the sales team at Silk Road focus on outstanding customer service and making sure each person who comes through the door has a delightful experience. From taking the time to help you find the perfect hostess gift to wrapping your purchase with a flourish of tissue and ribbons, Karla hopes that each time you visit Silk Road you walk away with a smile.
---
Beauty begins the moment you decide to be yourself.